Monday, January 31, 2011
Papa John's is offering
free large Papa John's Pizzas
with up to three toppings if the Super Bowl goes into overtime on Feb. 6. You must register for the
Papa John's Rewards Program
no later than Feb. 5. to get this freebie. If the Super Bowl does go into overtime, every Papa John's Rewards Program member will receive 25 My Papa Points in their Rewards account, which is enough to get a free three-topping large pizza
.
Posted by

Baubles By Becky
at 5:34 PM
No comments:


Sunday, January 30, 2011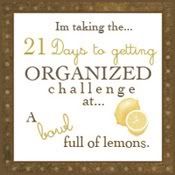 I ran across this website last week and am really interested in taking the challenges. We will be a few weeks late, but better late than never, right?
Lets take the next 21 days and get our lives a little more organized. I know I can use it. I will post pictures of my challenges and encourage you to send me your pictures to post. No judgements here! My email is becfie73@gmail.com .
So, our first challenge will be Monday, January 31. Who's with me?
Posted by

Baubles By Becky
at 10:09 AM
No comments:


Saturday, January 29, 2011
I am mulling over what to do with this blog. Is anyone out there?
Posted by

Baubles By Becky
at 10:12 AM
1 comment: