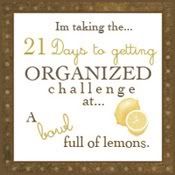 I ran across this website last week and am really interested in taking the challenges. We will be a few weeks late, but better late than never, right?
Lets take the next 21 days and get our lives a little more organized. I know I can use it. I will post pictures of my challenges and encourage you to send me your pictures to post. No judgements here! My email is becfie73@gmail.com .
So, our first challenge will be Monday, January 31. Who's with me?